This Podcast is Sponsored by Audible.com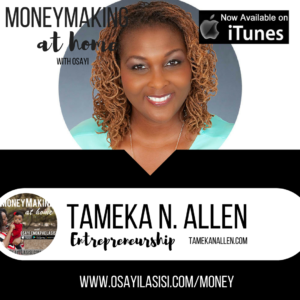 Click below to listen
In this podcast episode, Tameka takes us through the steps we will need to go through to go from employee to entrepreneur.
She also goes the three main reasons that women are struggling as entrepreneurs and you won't believe what number 2 is.
You can connect with her here:
Facebook: https://www.facebook.com/tamekanallen/
Twitter: https://twitter.com/tamekanallen
LinkedIn: https://www.linkedin.com/in/tamekanallen
Click the button to Get: The 10 Rookie Mistakes Entreprenuers Make + How to Fix Them:
[button_6 bg="green" text="style5_getaccessnow.png" align="center" href="http://tamekanallen.com/rookiemistakes" new_window="Y"/]
Want to stay updated on all future podcasts?
[optin_box style="31″ alignment="center" action="https://www.osayilasisi.com/sendy/subscribe" method="post" email_field="email" email_default="Enter your email address" email_order="0″ integration_type="custom" double_optin="Y" name_field="name" name_order="0″ name_required="Y" name_default="Enter your first name" opm_packages=""][optin_box_hidden][/optin_box_hidden][optin_box_code]
[/optin_box_code][optin_box_field name="headline"]Want to stay updated on all future podcasts and other updates?[/optin_box_field][optin_box_field name="paragraph"]PHA+TG9yZW0gaXBzdW0gZG9sb3Igc2l0IGFtZXQsIGNvbnNlY3RldHVyIGFkaXBpc2NpbmcgZWxpdC4gRG9uZWMgdmVsIG51bmMgbm9uIGxhY3VzIHZlbmVuYXRpcyBjb21tb2RvLjwvcD4K[/optin_box_field][optin_box_field name="privacy"]We value your privacy and would never spam you[/optin_box_field][optin_box_field name="top_color"]undefined[/optin_box_field][optin_box_button type="0″ button_below="Y"]Stay updated today![/optin_box_button] [/optin_box]
If you would like to be a guest on the podcast send me an email
soundtrack by bensound.com