This Podcast is sponsored by virtualsummitcamp.com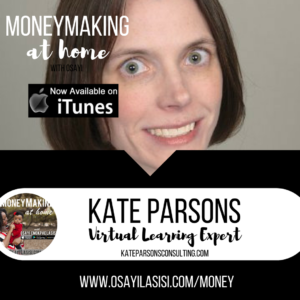 Click Below to listen
In this episode we talk about
– The importance of having multiple revenue streams and how online courses are an excellent way for accomplishing that.
– The Process of Creating an online course
– Finding that skill that you can turn into a course
– How to build relationships so you're not lonely in your business
– Why you should consider building an online course and the steps to take
About Kate
I have been an educator for over ten years, working in the public schools, higher education, and online learning. My passion for online learning has increased over the years, as I have seen how incredible it is to build relationships with people from all over the globe. Currently, I run a home-based business where I teach entrepreneurs how to create online courses to build their brand, increase their revenue, and grow their businesses. I also teach English as a Foreign Language to children living in China. It's an amazing opportunity to work with children on the other side of the world! I also tutor students in the United States in a variety of subjects through Varsity Tutors, using a virtual platform to connect with students of all ages throughout the country.
Connect with Kate
facebook.com/kpedconsulting (biz page)
facebook.com/katep830 (personal profile)
linkedin.com/in/kparsons830
Want to stay updated on all future podcasts?
[optin_box style="31″ alignment="center" action="https://www.osayilasisi.com/sendy/subscribe" method="post" email_field="email" email_default="Enter your email address" email_order="0″ integration_type="custom" double_optin="Y" name_field="name" name_order="0″ name_required="Y" name_default="Enter your first name" opm_packages=""][optin_box_hidden][/optin_box_hidden][optin_box_code]
[/optin_box_code][optin_box_field name="headline"]Want to stay updated on all future podcasts and other updates?[/optin_box_field][optin_box_field name="paragraph"]PHA+TG9yZW0gaXBzdW0gZG9sb3Igc2l0IGFtZXQsIGNvbnNlY3RldHVyIGFkaXBpc2NpbmcgZWxpdC4gRG9uZWMgdmVsIG51bmMgbm9uIGxhY3VzIHZlbmVuYXRpcyBjb21tb2RvLjwvcD4K[/optin_box_field][optin_box_field name="privacy"]We value your privacy and would never spam you[/optin_box_field][optin_box_field name="top_color"]undefined[/optin_box_field][optin_box_button type="0″ button_below="Y"]Stay updated today![/optin_box_button] [/optin_box]
If you would like to be a guest on the podcast send me an email
soundtrack by bensound.com