Author: Michelle McKinney Hammond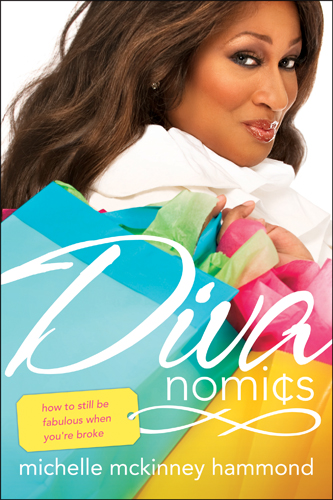 List Price: 12.99
ISBN: 978-1-4143-3382-3
Trim Size: 5 1/2 x 8 1/4
Binding: Softcover
Release: April 2010
How to still be fabulous when you're broke
This book* is so cute and timely. There is so much that is good about this book, I'm not sure where to start. First of all, I am sure you know Ms. Hammond…her books on relationships are sooooo down to earth and enjoyable, if you are not familiar with her book, might I suggest (in addition to this one) "Men are like buses"…
Now back to this book review- this book is a quick read – I was already halfway through the book in probably an hour or so. It is easy to read and easy to understand. Her honesty was very refreshing! Let's just say she had to learn the budgeting lesson the HARD way!!!
With chapter titles like "how to say no and still look beautiful," and "Walmart, Tarjay and other exotic places" you can't help but learn to budget and spend wisely, while having fun.
I particularly enjoyed the chapter entitled "Damsels and Knights" Ms. Hammond talks about letting men take care of women…not to take advantage of their desire to help, but to see it as a way to bless them by letting them know that they are valued.
I have some minor critiques
She uses a  LOT of cliches, proverbs and sayings (as in every other sentence)- this can be a little distracting when you really just want her to get to what she is really trying to say.
She has a chapter on tithing where she talks about how tithing helps God to keep away the devourer- this is just not true. Yes it is good to tithe (give and you will receive), but the devourer is an old testament concept- we are no longer to give out of obligation (2 Corinthians 9:7) but to give cheerfully we have decided to give, in appreciation of what God has done for us…(can read more on this in blog post "Is God a Mobster")
* Tyndale Press provided me with a free copy to review.
For more information and to purchase this book click here.